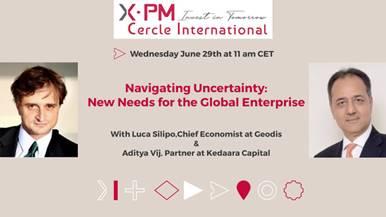 On June 29, the "Cercle International" was held with the theme "Navigating the Uncertainty New needs for the Global Enterprise".
The debate with guest speakers Luca Silipo, Chief Economist at Geodis, and Aditya Vij, Partner at Kedaara Capital, was exceptionally rich and passionate.
In a few words here is the summary of the debate:
1. Uncertainty will continue to grow
Globalization driven during 40 years by large low-cost production centers, strong activity in OCDE countries, absence of conflicts and everyone wanting the same thing is coming to an end. It has led to un-strategic distributions and is now seen as detrimental to the environment, immoral and unjust. The future will not look like the past largely influenced by the West; while it should emerge from new inter-connected economic, environmental, societal and (geo)political components, it is largely unknown and remains to be built. It is a complex path rather than a dot on the horizon. With GDP from OCDE countries also on the decline, individuals, companies and institutions will have to face even more uncertainty in the years to come.
2. Companies need to plan for uncertainty
In the short-term companies may have to react extremely fast to matters affecting their survival, urgently revisit their supply chains, stop or redirect investments. They may also take advantage of uncertainty and innovate in new products or lines of services, possibly offering their clients short term security. But most of all they will have to integrate uncertainty in long-term planning systems. Instead of a unique vision of the future, companies need to develop scenarios, keep updating these scenarios and their feedbacks as well as a way forward that optimizes financial environmental and societal success across all scenarios. Because of the complexity, smaller companies will need to get support in integrating uncertainty in their planning systems, typically a role for Private Equity firms or specialized consultancies.
3. It is also the prime responsibility of corporations to lead the transformation towards a better world
In democracies politicians often have barely enough time to please their electors and get re-elected; they operate on short cycles and are vulnerable to continued scrutiny. Corporations are not elected and have the resources and the long-term commitment to succeed and survive; they now have to satisfy environmental and societal objectives in order to keep their resource & customer base and satisfy the new generations. While institutions should set the framework nothing more, individuals and corporations can contribute to the creation of the new values in a transformed and diversified society. And corporations have the legitimacy to take the lead. In authoritarian regimes, inspired rulers may have a long-term vision, and some initial success in implementing it. However, they are not prepared to lose control and conflicts with corporations are bound to happen as the model develops.
You may also wish to get in touch with the speakers directly: